The 2019 UPAA Symposium will be held from June 17 – 21 at Grand Valley State University in Allendale, MI. Bernadine, Elizabeth and Amanda are very excited to have you all join us for a week full of inspiration, learning, and comradery.
 We are still in the planning phase, but we have some great things in the works for you. We want to show you the best of the area while you are with us, so we have scheduled a photo demo on the beaches of Lake Michigan with Dave Black, and the shootout will be in the city of Grand Rapids. We will have lots of hands on opportunities to put your new found (or further honed) skills to use, and we will have more member-led involvement including workshops, panels, and more. Something new we're trying out in 2019 is a short "Yoga you can do anywhere" session with a certified yoga instructor. Being a photographer is hard on the body, and we will learn some simple stretches and poses that you can do in your office or between assignments.
Accommodations:
Before registering for the Symposium and Housing complete the 2019 Symposium Housing Form, then return to this page to register for the Symposium.
We're happy to be able to house everyone in a modern apartment-style residence hall on campus. This will make for a more centralized experience, and will lend itself to comfortable and natural networking within the indoor and outdoor common areas. Not to mention, you'll be paying a rate that is half the price of a hotel to be in an apartment for a week with a kitchen and living area!

Housing is $375 per person for an individual room in a 2- or 4-bedroom suite. This includes linens and breakfast (Tuesday through Friday.) You may arrive either Sunday or Monday.

You may put in a request for specific suite-mates and we will do our best to accommodate all requests.

Special note for partners and families: None of the rooms can have more than one bed. Each partner or family member will need to pay for an individual room for the week.  We will make sure that partners and families share the same suite.

We are not holding any hotel rooms. 
Host: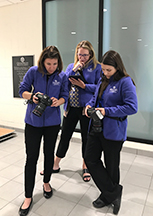 The hosts for the 2019 Symposium are Bernadine Carey-Tucker, Elizabeth Lienau, and Amanda Pitts. Together they make up the unofficially named "Photo Team" within University Communications at GVSU. They have been working together for over a decade, and have various theme songs they use to psych themselves up while on team shoots and assignments including "Everything is Awesome" from The LEGO Movie and "The Teamwork Song" which they overheard while on assignment at the GVSU Childhood Enrichment Center.
Speakers:
Dave Black
Photographer, educator, author, and Nikon Ambassador United States.
"I love to make pictures."  Dave Black's education in Commercial Graphics Design and Studio Drawing lend well to his vision of photography. "I love to make pictures that draw the audience in for a closer look."
Biography
As a freelance photographer for 38 years Dave's work has primarily centers on the SPORTS and Action for such publications as Sports Illustrated, Time, Newsweek and the award winning TV show Sports Century on ESPN. The list of event coverage includes the Masters, Kentucky Derby, National Football League, NASCAR and extensive work regarding the United States Olympic Committee, Olympic athletes and coverage of 12 Olympic Games.
Specialties
Known for his Creative use of Speedlights and in particular with the artistic technique of Lightpainting, Dave's portfolio continues to broaden into the commercial and advertising industry, and with specialized lighting projects including work for the National Geographic and their book Where Valor Rests, Arlington National Cemetery.
Educator
Dave is a "Nikon Ambassador US" and "Nikon Legend Behind the Lens". He is closely involved with the next generation of photographers by teaming up with the online instructor faculty of KelbyOne, and is an instructor for Photoshop World.
Workshops and Seminars:  His long term involvement as an educator and guest lecturer with numerous photography workshops and seminars since 1986 include Rich Clarkson's Summit Series of Workshops (Sports, Lighting, Adventure and Nature.)  Dave lectures at Universities and Colleges each year and teaches his own Dave Black Lightpainting Workshops in Colorado.
Resources
Website
Instagram @daveblackphoto
Blog
Portfolio 
Books
Sponsored by Nikon


Price:
$475 for members & associate members for early registration. $529 for late registration after April 30. $275 for Retiree members and Spouses Program. Registration closes on May 31.
Getting Here:
Grand Rapids International Airport (GRR) is the easiest and closest major airport to campus. It is about a 30-40 minute drive from the airport to campus, so you will need to rent a vehicle, get an Uber, or carpool. You could also fly into Chicago or Detroit if you don't mind an extra 2.5 - 3.5 hour drive.